Matthew Deane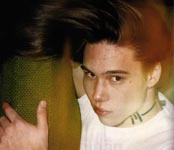 Full name Matthew Paul Deane
Birthdate 29 August 1978
Height 181 Cm.
Weight 67 Kg.
Race English-Thai
Nationality Thai
Hobby sports,read
Collection Perfume
Sports athletics
Car BMW
want to be spaceman
Address Maker Head Co.,Ltd.
209/1 CMic Tower-B
North-Klongtuey Bangkok Thailand
Hair Long Brown Hair He say
"I think it's suitable for me"
Eyes Brown
Girl spec he like funny girl and not like qrouchy girl.